BMS – Building management system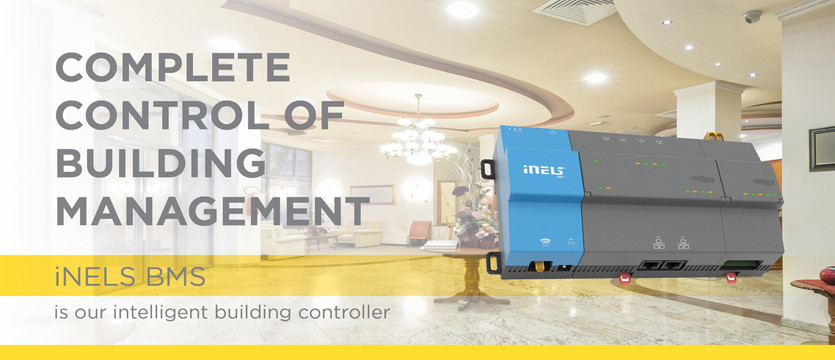 We are often asked whether our iNELS BMS solution is suitable for any type of building and whether it is possible to implement iNELS BMS in any large building. The simple answer is: YES! Twice. Let's see what iNELS BMS can do…
What is BMS?
The building management system (BMS) concept is used in conjunction with the management of buildings, whether hotels, offices or homes.
What does BMS offer?
BMS enables heating, cooling, ventilation, lighting and shading control. The integration of EPS, ESS, cooling units, frequency converters and heat pumps. With these capabilities, BMS offers the ability to manage multiple elements at the same time to have a complete approach to optimizing and reducing building costs, which makes building management very easy.
BMS technology:
Individual technologies have historically been independent of each other, and it can be argued that different communication standards, the so-called communication protocols, have emerged in individual technology areas. For example, DALI is the most common protocol for lighting, BACnet protocol for heating and cooling, M-bus is used for data collection and management. There are dozens of such protocols, but we can broadly say in that area, that protocol rules. In recent years, standards for wireless data transmission, such as NarrowBand, LoRa, Sigfox, have been added to this. Indeed, we can only talk about an intelligent building if communication between the systems and their protocols is ensured.
User Interface:
The user interface provides a web interface that can be made available both locally and remotely. The web interface may look like the design in the image below.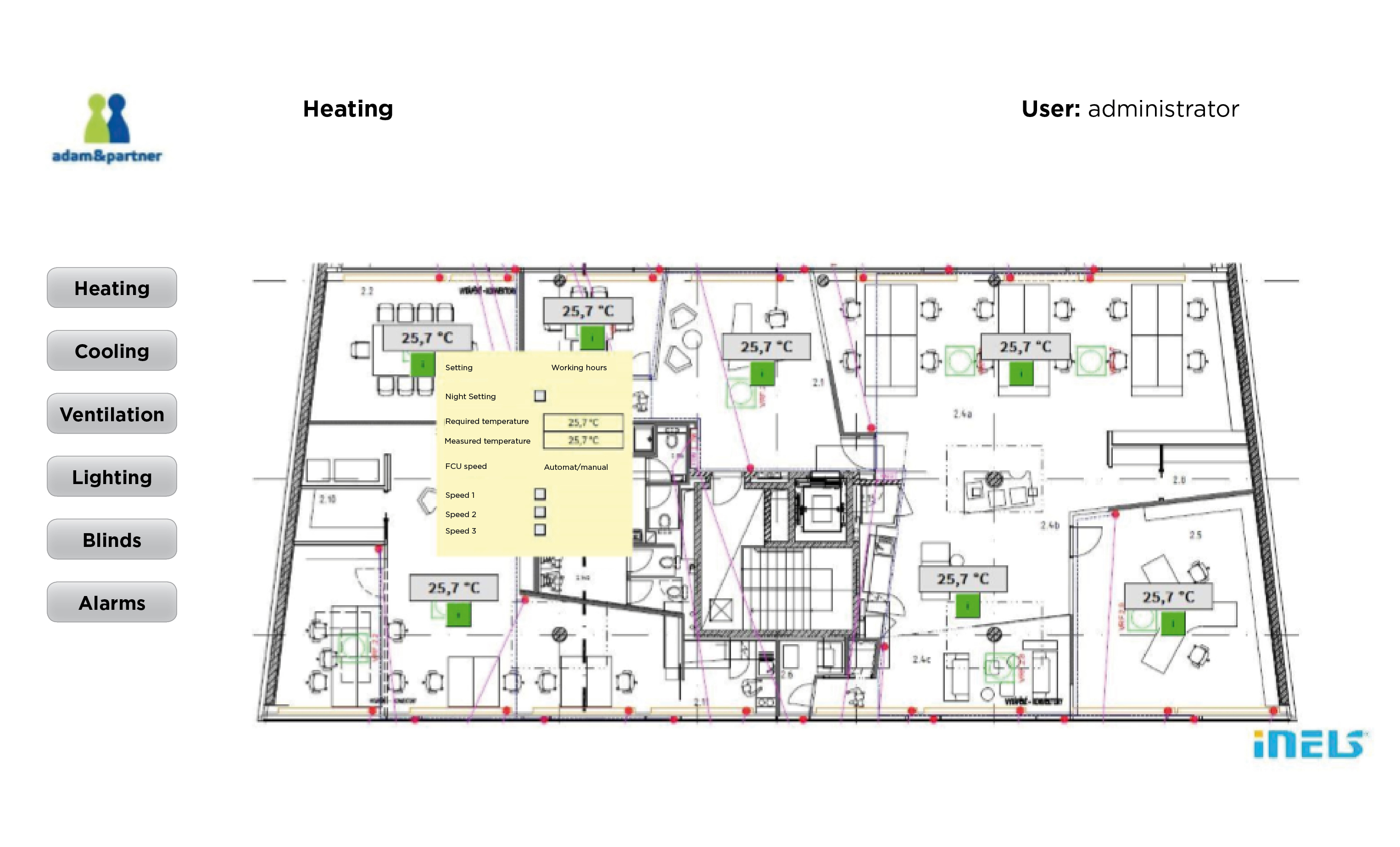 The interface also allows you to set the time intervals to turn on / off, such as heating only from 7:00 am to 6:00 pm if you are present in the building or the alarm system when the building is locked.
The big plus is the ability to store historical data. Thus, you gain an overview of the energy performance of the building and reduce the cost of its operation, or the basis for invoicing tenants of buildings.
BMS Function:
Lighting control (also depending on ambient lighting when exposure sensor is present)
Shading control according to weather station or exposure sensors
Heating control with speed selection FCU or automatic
Continuous cooling control 0-100%, not just on / off
Timing and manual air handling control
Selection of VRF settings for indoor and outdoor units (direction, top / cool)
Alarm Console - Used to register errors. Possibility to use for facility management
Trends - charts of whatever we want to watch (temperature, humidity, occupancy of offices by ESS)
Energy measurement if installed
The SCADA / HMI is the web interface through which data will be represented
Link to existing iNELS application
Web access can also be accessed for various users, such as an administrator and a regular user. Or according access can be grated to tenants.
For more information about this product, please contact us: export@elkoep.com
Date of publication: 23. 07. 2019
Information about the company
ELKO EP is one of the world's leading manufacturers of electronic equipment for residential, office and industrial automation. We have been supplying the world over for the past 27 years; our main domain is primarily relays, but we also supply wireless products and IoT products. But we're not just focused on products; we also propose comprehensive and highly effective solutions.
Our branches are located in 13 countries around the world, but all developments and production takes place in our own premises in Holešov. Thanks to this background, we have received several important awards, such as the Visionary of the Year 2015 or the Global Exporter in 2016.
Calendar
Customer Centre
Technical support
UK Sales Team