Connecting and maintaining socket relays has never been easier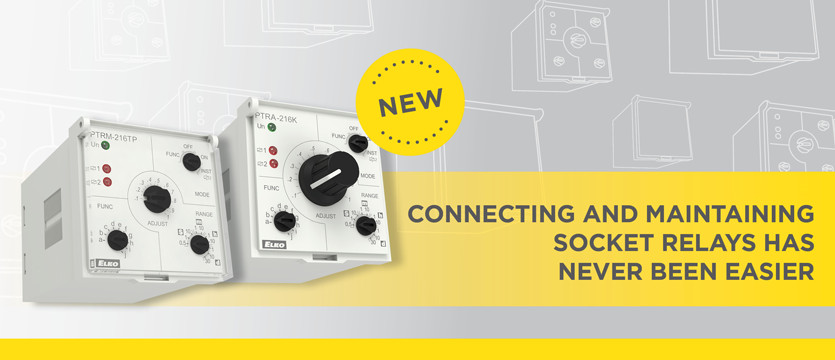 Even though we are already in the 21st century, products designed for the 11-pin socket are still frequently sought-after goods, partly due to easy and fast maintenance or installation. In addition, they allow pre-assembly of the sockets, which are suitable for industrial buildings with regards to the shortened installation time after their delivery to the customer.
It is now possible to mount our plug and play socket relay not only on a DIN rail but also in the holes in the panels, for which we have a standard 1/16 DIN cut-out (45mm2), which will facilitate the easy work of finding a suitable panel or possible accessories.
In contrast to the previous variant of the PRM socket relays, it is possible to select a control element for fine-tuning the time range with either a rotary switch or large knob or, each of which has its own benefits.
If you select a dial, you can use a sealable cover on the front panel to prevent unauthorized access. With the big button, on the other hand, you can adjust the exact time you want more comfortably and accurately, without the need for tools.
Another of our innovations is more variants of control inputs from potential-free to voltage-dependent, which you can have either as a classic with one control input or a more advanced variant with three control inputs.
Some other features and benefits:
Compact size of the front frame 48mm2 with a depth of only 66.5mm

Laser description

Self-extinguishing plastic, including UV resistance

Possibility to use NPN / PNP capacitive and motion sensors, incl. encoder for control input

Universal supply voltage 12 – 240V AC/DC

Wide time range 50ms - 30 days

Two output LEDs for indication of each relay separately incl. timing

Dielectric strength 4kV
Date of publication: 01. 06. 2020
Information about the company
ELKO EP is one of the world's leading manufacturers of electronic equipment for residential, office and industrial automation. We have been supplying the world over for the past 27 years; our main domain is primarily relays, but we also supply wireless products and IoT products. But we're not just focused on products; we also propose comprehensive and highly effective solutions.
Our branches are located in 13 countries around the world, but all developments and production takes place in our own premises in Holešov. Thanks to this background, we have received several important awards, such as the Visionary of the Year 2015 or the Global Exporter in 2016.
Calendar
Customer Centre
Technical support
UK Sales Team