ELKO EP products in the viewfinder of forgers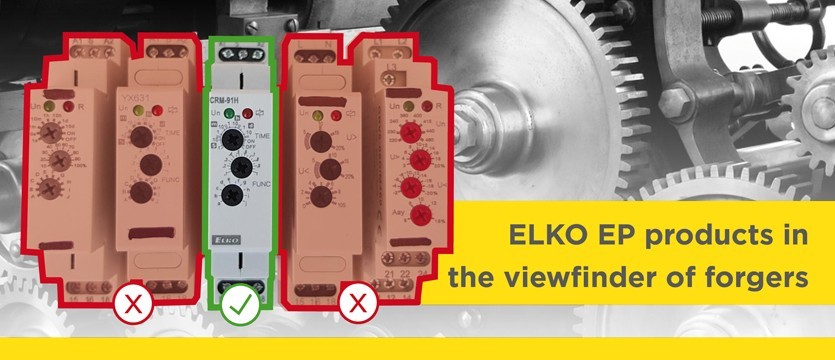 Adidas, Apple, Cartier, Louis Vuitton, Disney, Samsung. Perhaps no famous brand has been missed by the forgers who do not care about trademarks or patents. Among the often imitated is also the range of Holesov Company ELKO EP, which exports its renowned relays and other products to more than seventy countries.
"When someone copies your products, it proves their desire and quality. On the one hand, it pleases you, but on the other hand it means a threat in the form of losses. Unfortunately, not only financial, but also loss of trust and potential customers, "said ELKO EP CEO Jiří Konečný after this year's Hannover Messe, where he discovered the forgery of several products from his company.
"We have been dealing with this problem for many years. For example, in 2015 we watched at the Canton Fair in China, how unidentified Asian producers were innocently copying our world-renowned relays, "said Jiří Konečný, adding that companies that buy cheap copies with decent quality will save on price, but they're not prepared for technical support, advice and service, which ELKO EP offers to its customers to a great extent.
"We offer unprecedented quality. We design, develop and test our products in our own laboratories. We have over 25 years of experience. Therefore, we are not afraid to provide a five-year warranty,"adds Jiří Konečný proudly. The acknowledgment of the prominent position not only on the Czech market is the award of the Czech Business Superbrands 2019 award, which ranks ELKO EP officially among the most important and prestigious Czech brands.
ELKO EP has patented over three dozen designs and is included in its domain, as one of the world's leaders. It also adapts and manufactures its products for other world-renowned brands such as Siemens, ABB, Eaton, Schneider Electric, ETI and others. In the Czech Republic, ELKO EP covers 85% of the relay market, and is the second largest producer in Europe.
ELKO EP is not the only Czech company to deal with forgeries. For example, in the Zlín Region, Tescoma, Hamé and Ton have all had similar experiences with imitation of their products.
Date of publication: 30. 04. 2019
Information about the company
ELKO EP is one of the world's leading manufacturers of electronic equipment for residential, office and industrial automation. We have been supplying the world over for the past 27 years; our main domain is primarily relays, but we also supply wireless products and IoT products. But we're not just focused on products; we also propose comprehensive and highly effective solutions.
Our branches are located in 13 countries around the world, but all developments and production takes place in our own premises in Holešov. Thanks to this background, we have received several important awards, such as the Visionary of the Year 2015 or the Global Exporter in 2016.
Calendar
Customer Centre
Technical support
UK Sales Team