In Holešov a New Branch for iNELS Air Opens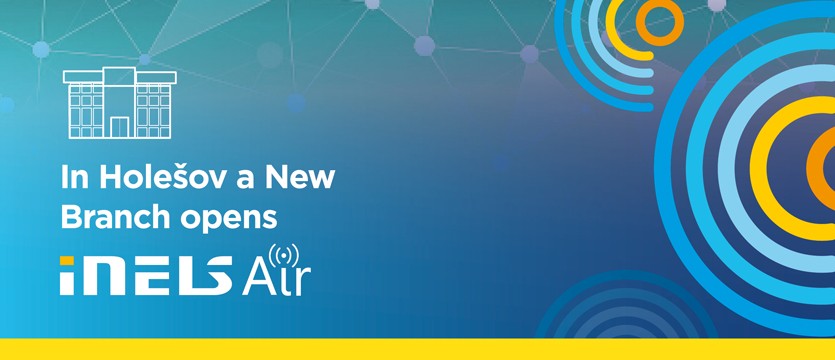 Holešov, January 8, 2020 - How does the world of 'smart things' and 'smart devices' really work for homes, offices and industrial buildings? How does the often discussed Internet of Things look like in practice and how to maximize its benefits in combination with wireless communication capabilities? You can see for yourself at the newly opened iNELS Air branch at the ELKO EP and iNELS headquarters.
That is, right in the place where electronic devices are developed and manufactured, that have gained international fame and are exported to more than 66 countries around the world. Today, iNELS and its components are a common part of high-tech hotels, banks, houses and giant industrial complexes from the United States, Qatar and Saudi Arabia to exotic destinations such as Bhutan, Cambodia and Kazakhstan.
Thanks to this background, the company has already opened 11 branches in various countries of the world and has won several awards in recent years - including the Visionary of the Year or the Global Exporter of the Year.
''While abroad the so-called Internet of Things is already an absolute necessity when planning any construction, in the Czech Republic we still look at this area with a little disbelief. This is one of the reasons why we decided to open a new branch of iNELS Air directly in our company headquarters. To demonstrate that technology can truly simplify life today, "says Jiří Konečný, founder of ELKO EP, which now has more than 270 employees and is also one of the global leaders in the field of electronic equipment manufacturing.
"INELS Air is our response to the dynamically evolving IoT (Internet of Things) networks, where we have used wireless technology to provide full coverage even inside buildings, while being energy efficient, with low operating costs. The product group includes sensors for communication on SigFox, LoRa or NB-IoT protocols, which we connected with both ELKO Cloud and IFTTT. Which at first glance sounds a bit complicated, but in practice means extraordinary simplification. Indeed, the best way to see this is in Holešov, "adds Jiří Konečný.
The mission of the new company iNELS Air, which is a joint venture of ELKO EP Holding SE and ACRIOS Systems, is to continue the development and customization of iNELS Air products and to develop business activities in the Czech Republic and other countries around world. The newly created company is headed by Radim Malinowski.
Date of publication: 14. 01. 2020
Information about the company
ELKO EP is one of the world's leading manufacturers of electronic equipment for residential, office and industrial automation. We have been supplying the world over for the past 27 years; our main domain is primarily relays, but we also supply wireless products and IoT products. But we're not just focused on products; we also propose comprehensive and highly effective solutions.
Our branches are located in 13 countries around the world, but all developments and production takes place in our own premises in Holešov. Thanks to this background, we have received several important awards, such as the Visionary of the Year 2015 or the Global Exporter in 2016.
Calendar
Customer Centre
Technical support
UK Sales Team