Wireless switch RFDW-71 / B in luxury glass design with integrated dimmer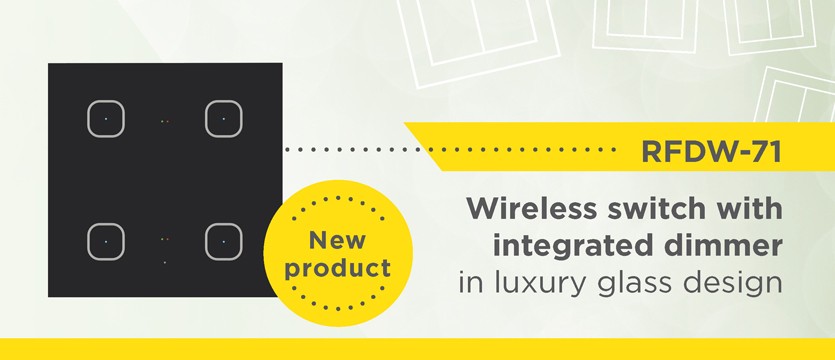 Introducing another innovation in our wireless RF series. The smart switch RFDW-71/B, which combines two elements into one, a universal dimmer based on RFDEL-71 model and a glass wireless switch RFWB-40.
By dimming, you can save up to 20% on the energy costs of lighting. In addition, you can set up any atmosphere - like sitting with friends, reading or watching TV. All with a single button thanks to programmed lighting scenarios.
The switch can be used for any R, L, C, ESL, LED light source. The possibility of setting the minimum brightness to eliminate the flicker of the light source (especially for LEDs) ranks ELKO EP dimmers among the TOP products on the market.
The glass panel
The glass panel is a design component of the iNELS system and is available in elegant black and white version.
Printing is possible to customize to the investor requirements.
Individual symbols can be illuminated in one of seven colours - red, green, blue, yellow, pink, turquoise and white.
Integrated dimmer
The integrated dimmer is based on the RFDEL-71 model. Each button can control any actuator in the system. It is also possible to assign a different function or macro (function set) to each button. It is therefore possible to control several appliances at the same time with one button. The RFDW-71/B is designed for installation in an installation box.
Selected parameters
6 lighting functions – continuous start or return with time setting range of 2 s - 30 min.
When it turns off the set level is stored in memory and after switching ON it returns to the last set (or programmed) status.
Setting min. brightness by potentiometer on the front of the device eliminates flashing of various types of light sources.
The switch directly controls the integrated dimmer and can also control other elements in the installation.
Further information and technical parameters can be found in the enclosed datasheet.
Date of publication: 10. 10. 2019
Information about the company
ELKO EP is one of the world's leading manufacturers of electronic equipment for residential, office and industrial automation. We have been supplying the world over for the past 27 years; our main domain is primarily relays, but we also supply wireless products and IoT products. But we're not just focused on products; we also propose comprehensive and highly effective solutions.
Our branches are located in 13 countries around the world, but all developments and production takes place in our own premises in Holešov. Thanks to this background, we have received several important awards, such as the Visionary of the Year 2015 or the Global Exporter in 2016.
Calendar
Customer Centre
Technical support
UK Sales Team