RFIO2 - enhanced wireless communication protocol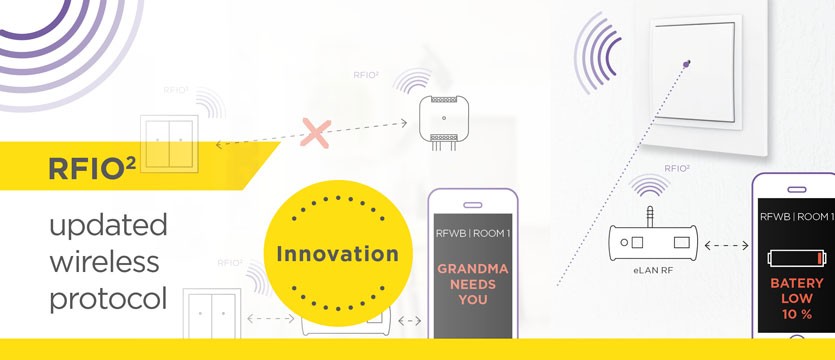 The RFIO2 concept follows the existing RFIO communication protocol and takes it to new levels with new features. RFIO2 is an innovative version for iNELS RF Control products, provides greater stability, it integrates more individual components into the communication circuit, and eliminates signal interference between them. Backward compatibility with RFIO products is maintained.
New features in RF Control products:
RFIO2 products now allow communication with the RFWD-100 window detector and the RFMD-100 motion detector. Up to 25 detectors can be connected to each other. These detectors are already in stock.
Provides support for repeater function for permanently powered actuators. The settings are made in the configuration program via the RFAF / USB service device.
Allows product firmware playback using RFAF / USB service equipment at customer's site.
The user can set the memory status of the product in the event of a power failure. Setting is simple; it is done by input and output from programming mode, when LED indicates ON / OFF status.
OFF function - the dimmer output is switched off by pressing the button.
Date of publication: 22. 11. 2019
Information about the company
ELKO EP is one of the world's leading manufacturers of electronic equipment for residential, office and industrial automation. We have been supplying the world over for the past 27 years; our main domain is primarily relays, but we also supply wireless products and IoT products. But we're not just focused on products; we also propose comprehensive and highly effective solutions.
Our branches are located in 13 countries around the world, but all developments and production takes place in our own premises in Holešov. Thanks to this background, we have received several important awards, such as the Visionary of the Year 2015 or the Global Exporter in 2016.
Calendar
Customer Centre
Technical support
UK Sales Team