RFPM-2M Energy gateway with improved application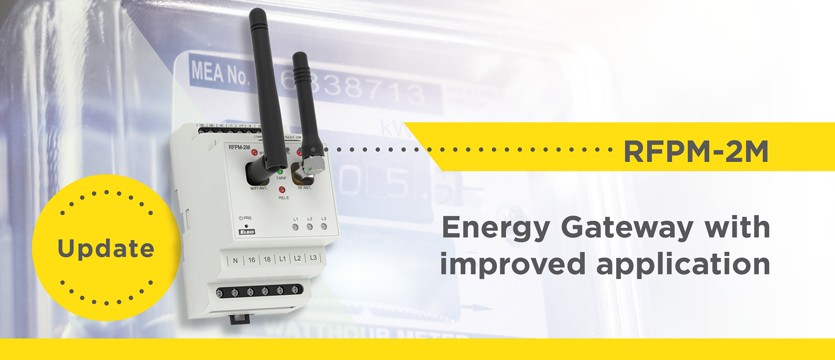 The Energy Gateway RFPM-2M web interface now has a completely new and cleaner visualization. This makes displaying and evaluating energy consumption even more convenient and easy.
You can show a sample overview of energy consumption for a current day, a previous day, a current week or a month. Graphical visualization shows consumption by hours, days or months.
The Energy Gateway evaluates the following indicators in the network online: Phase current / voltage, phase overvoltage / undervoltage, asymmetry, distortion of the sine wave signal, distortion of sine wave signal flow, frequency, active performance, reactive power, apparent performance, power factor, phase voltage shift between phases.
All basic and advanced settings are made simply, quickly and intuitively. If you have any questions, a phone/e-mail technical support is available for you.
Measured data can be displayed not only through the web interface on the PC but also in the application iNELS Home Control (iHC). The measured values of all quantities can be monitored, but above all archived and analyzed in many selected time periods (daily, weekly, monthly and yearly). Consumption can be quantified in consumed units or directly in financial costs. Another advantage is the possibility of measuring electricity consumption in up to 4 tariffs.
You can try a demo version of the web interface on the website:
http:// http://217.197.144.56:2130/
Login: admin
Password: admin
Date of publication: 18. 12. 2019
Information about the company
ELKO EP is one of the world's leading manufacturers of electronic equipment for residential, office and industrial automation. We have been supplying the world over for the past 27 years; our main domain is primarily relays, but we also supply wireless products and IoT products. But we're not just focused on products; we also propose comprehensive and highly effective solutions.
Our branches are located in 13 countries around the world, but all developments and production takes place in our own premises in Holešov. Thanks to this background, we have received several important awards, such as the Visionary of the Year 2015 or the Global Exporter in 2016.
Calendar
Customer Centre
Technical support
UK Sales Team