The best solution for your LED light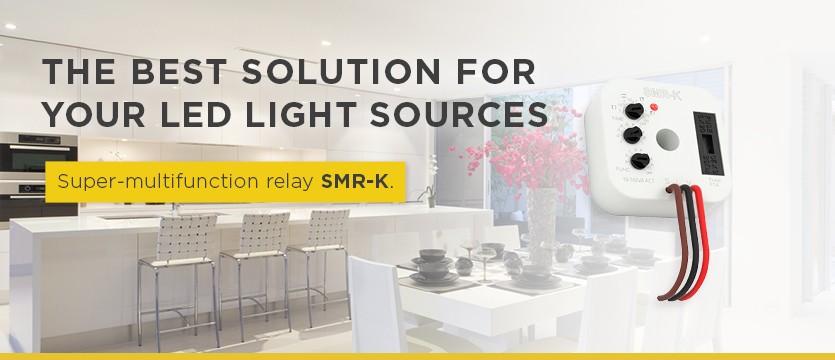 Are you already tired of your old switch and do you want to upgrade to a new level? Re-wiring the entire existing wiring your home is not an option? Use the SMR-K multi-function relay. It is designed for mounting into installation box, under the pushbutton or switch directly into existing wiring.
The main advantage of the SMR-K relay is the possibility to connect an LED light source. With a combination of a regular timer and a LED light source, it's a good thing that even a low micro amp current can be distributed to the LED light source. This can lead to flashing or to light being emitted even when switched off. However, the SMR-K time relay can handle this. Thanks to the low control current of the product, only 25 micro amps will no longer make the light source flash.
The relay also offers a wide range of other benefits – mounting the KU 68 into installation boxes instead of the cabinet, adjustable off-delay function – you will appreciate, for example, the fan on the toilet, which will remain on when the bulb is switched off, the button lock and others.
SMRK is designed for switching R and L loads, i.e. for conventional bulbs, transformer-wound light sources, electric motors and the like.
You can find out more about the product on our website.
Date of publication: 19. 09. 2018
Information about the company
ELKO EP is one of the world's leading manufacturers of electronic equipment for residential, office and industrial automation. We have been supplying the world over for the past 27 years; our main domain is primarily relays, but we also supply wireless products and IoT products. But we're not just focused on products; we also propose comprehensive and highly effective solutions.
Our branches are located in 13 countries around the world, but all developments and production takes place in our own premises in Holešov. Thanks to this background, we have received several important awards, such as the Visionary of the Year 2015 or the Global Exporter in 2016.
Calendar
Customer Centre
Technical support
UK Sales Team