USS control and signalling modules DO IT YOURSELF!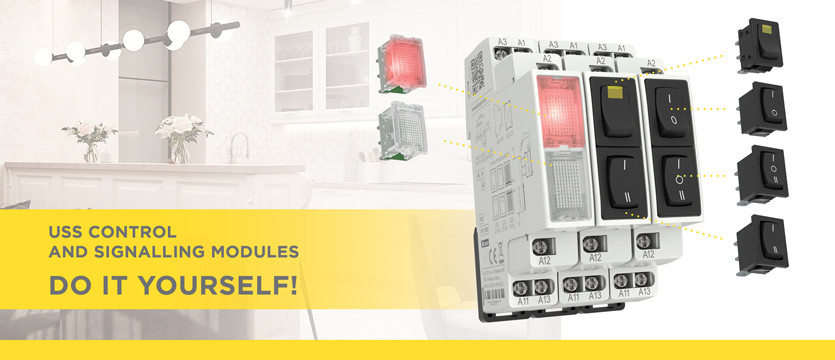 Sometimes it's better to leave certain things to the pros, sometimes it's just a few clicks and you're done and no help is needed. One example is our USS control and signalling modules that meet this requirement.
As the abbreviation of the module name implies, it is entirely up to you how you combine them. The USS is based on the original form, but thanks to the innovative solution, their installation is easier. The basis is a box in a 1-MODULE version, which is mounted on a DIN rail. You can fit up to 2 positions of units from our offer (switches, buttons and indicators that flash or light up permanently), thus saving space in the switchboard compared to competing products.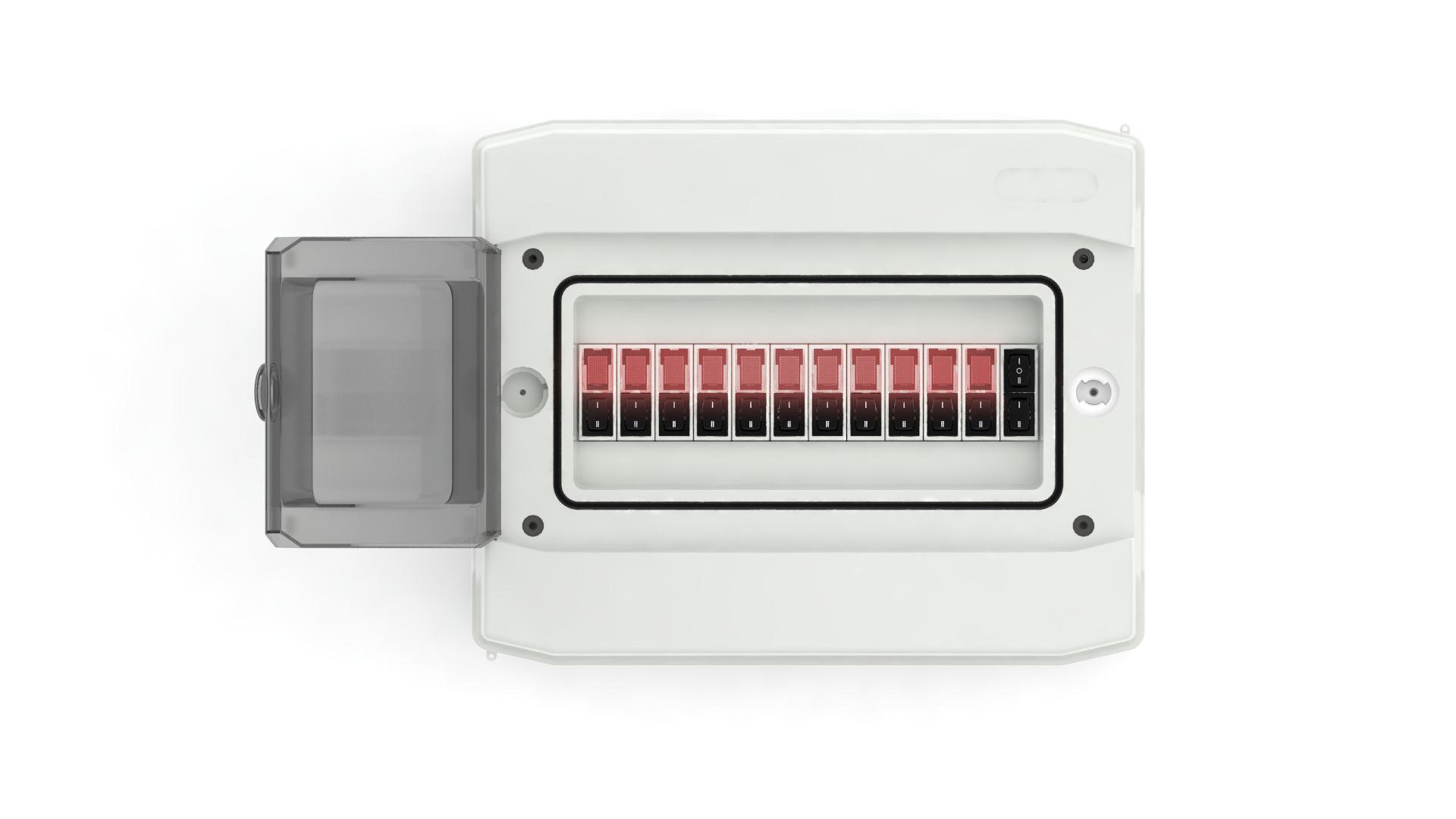 The units are supplied as standard separately in 16 types, the configuration of which you can determine yourself. Switches and pushbuttons meet high demands on switching frequency and contact quality. You can control the switching and signalling in one unit thanks to the plug switch. Bright luminosity thanks to the SMD LED diode, which evenly illuminates the area of ​​the clear signal light with its colour, has a permanently lit and flashing signal light. And if you don't fit the module with two units, the blanking plug will serve well to blind the position in the front panel of the USS module.
Thanks to the two unit connection, you can control up to 24 different circuits on 12 of our modules. Quick installation and clean design is also a plus.

Technical parameters
Rated current / voltage:
- USS-01, USS-04, USS-05, USS-07, USS-08, USS-09: 6 A / 250 V AC
- USS-02, USS-03, USS-06/S, USS-06/R: 10 A / 250 V AC
Signal supply voltage AC 230 V (A1-A2) or AC/DC 24 V (A1-A3)
Operating temperature -20 °C to + 55 °C (-4 °F to 131 °F)
Clamp terminals 3M with screw
1-MODULE, DIN rail mounting

Types of units
Diagram

eshop
Model
Code
USS-ZM:
Basic MODULE (housing with
terminals and contacts)
-
to eshop
3D
2457
USS-00
Blind flange

-

to eshop
3D
2461
USS-01
Switch
to eshop
3D
2462
USS-02
Alternation switch
to eshop
3D
2463
USS-03
Switch with central position
to eshop
3D
2464
USS-04
Switch + button with central position
to eshop
3D
2465
USS-05
Switching button with central position
to eshop
3D
2466
USS-06/R
NO switch
to eshop
3D
3637
USS-06/S
NC switch
to eshop
3D
2467
USS-07
Switch with glow lamp (red)
to eshop
3D
2468
USS-08
Switch with glow lamp (green)
to eshop
3D
2469
USS-09
Switch with glow lamp (yellow)
to eshop
3D
2470
USS-10
Signalling LED (red)
to eshop
3D
2433
USS-11
Signalling LED (green)
to eshop
3D
2434
USS-12
Signalling LED (yellow)
to eshop
3D
2435
USS-13
Signalling LED (white)
to eshop
3D
2436
USS-14
Signalling LED flashing (red)
to eshop
3D
2489
USS-15
Signalling LED (blue)
to eshop
3D
2437
Date of publication: 08. 06. 2022
Information about the company
ELKO EP is one of the world's leading manufacturers of electronic equipment for residential, office and industrial automation. We have been supplying the world over for the past 27 years; our main domain is primarily relays, but we also supply wireless products and IoT products. But we're not just focused on products; we also propose comprehensive and highly effective solutions.
Our branches are located in 13 countries around the world, but all developments and production takes place in our own premises in Holešov. Thanks to this background, we have received several important awards, such as the Visionary of the Year 2015 or the Global Exporter in 2016.
Calendar
Customer Centre
Technical support
UK Sales Team