miniCU - SMALL, PERFORMANCE AND SAFE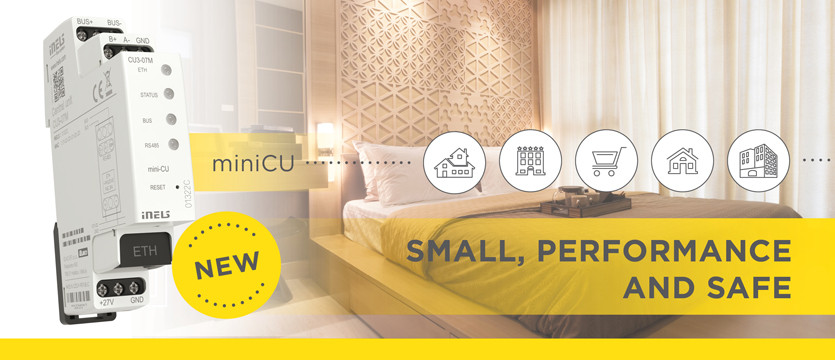 To optimize the solution not only of a hotel room, but also of an apartment, cottage or bungalow, it is enough to only use a single 1-module mini CU3-07M unit crammed with innovations.
This has long been one of the priorities of the ELKO EP - to show that even with a small unit you can amaze the world of accommodation facilities, and so the family of central units "CU3" has grown by miniCU.
It really is small - it is a 1-module device (width 17.5 mm) with a consumption of less than 1.5 W. Together with the PS3-30 / iNELS power supply, which works with the miniCU as a bus separator, it takes only 70 mm in the switchboard. Despite its size, however, it can work with all the advantages that a bus solution brings namely speed, variability and connection to superior systems.
The fact that the unit can function for installations as a separate master or as a slave for the superior CU3-0xM is an added benefit. It can operate up to 32 units (devices) on the bus and all elements of the iNELS BUS system can be connected to it, but most frequently GRMS controllers, dimming and switching actuators. It is also compatible with the MODBUS protocol, which allows direct connection to HVAC (thermostats, fan coils and others) when connected to the RS485 terminals.
Thanks to the unique IP address, it can be scaled to different ranges of superior control (CU master, Bacnet, Niagara, Modbus RT), connected within the PMS (Property Management System), to the access system (door lock) or to Hospitality TV.
If you are looking for a handy helper for your accommodation facilities, the miniCU will be an excellent solution to handle it. You can find more information on our website for product details or in the BUS technology catalogue.
Launch: January 2021
Date of publication: 12. 08. 2020
Information about the company
ELKO EP is one of the world's leading manufacturers of electronic equipment for residential, office and industrial automation. We have been supplying the world over for the past 27 years; our main domain is primarily relays, but we also supply wireless products and IoT products. But we're not just focused on products; we also propose comprehensive and highly effective solutions.
Our branches are located in 13 countries around the world, but all developments and production takes place in our own premises in Holešov. Thanks to this background, we have received several important awards, such as the Visionary of the Year 2015 or the Global Exporter in 2016.
Calendar
Customer Centre
Technical support
UK Sales Team